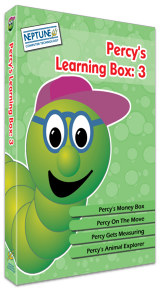 Percy's Learning Box 3 contains a compilation of 4 individual 'Percy' titles. With the topics covering money, purchasing items and giving change, spatial awareness, movement, direction, length, weight, capacity and animals in a variety of habitats, this compilation offers a fantastic saving over the purchase of the separate titles.
Percy's Learning Box 3 contains a wide selection of fun activities that are ideal for un-supervised use – even by non-readers (each title is fully narrated). Three levels of difficulty for each activity, printable worksheets and extensive teacher sections are also featured in this product.
Percy titles included in this compilation:
Key features:
Includes four popular titles: Percy Gets Measuring; Percy On The Move; Percy's Money Box and Percy's Animal Explorer.
Money-saving compilation supplied on one CD for ease of installation.
Printable activity sheets and extensive option sections.
Each product features three levels of difficulty and is fully narrated.
Single user:
£99.00
3 user:
£148.50
5 user:
£198.00
10 user:
£297.00
20 user:
£396.00
Site licence:
£594.00
To purchase, choose your licence type and click buy. Remember, we can invoice UK schools even if you order online.







PC: Pentium II 500mhz processor or greater, Microsoft Windows 98, 2000, XP or Vista, 128mb RAM, 16 bit colour.
Mac: Power Mac G3 400mhz processor or greater, OS X (up to 10.4), 128mb RAM, 16 bit colour.
Click here to view our latest software compatibility chart.