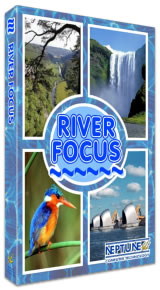 The physical processes of rivers are explored in this package for Key Stages 2-3. Photographs, clear animations, diagrams, video footage and text combine to teach the essential concepts surrounding river systems, with several activities to test users on the main topics. River use, wildlife and rivers around the world are also investigated.
Divided into five sections, the software begins with an exploration of the movement of water and the water cycle. The river system is explored from itís source in the mountains to the estuary, with insights into water speed, bank shape and drainage basins. Erosion and depositional processes are investigated, including waterfalls, meanders and bank erosion.
Maps and facts are included about major rivers found throughout the world and their use. Finally, river wildlife is investigated with an abundance of photos and facts. Also included is a selection of printable worksheets and a scrapbook for pupils to display and print their research.
Key features:
Games and printable activity sheets are included to reinforce learning.
Includes video footage, photographs, diagrams and text.
Supports the subject of geography.
River Focus both teaches and tests with interesting activities.
| | |
| --- | --- |
| Subject(s): | Geography |
| Key stage(s): | 2, 3 |
| Ages: | 9 - 13 years |
Single user:
£39.00
3 user:
£58.50
5 user:
£78.00
10 user:
£117.00
20 user:
£156.00
Site licence:
£234.00
To purchase, choose your licence type and click buy. Remember, we can invoice UK schools even if you order online.







PC: Pentium II 500mhz processor or greater, Microsoft Windows 98, 2000 or XP, 128mb RAM, 16 bit colour.
Mac: Power Mac G3 400mhz processor or greater, OS 9, 128mb RAM, 16 bit colour.
Click here to view our latest software compatibility chart.