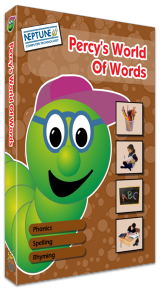 Join Percy, the friendly caterpillar, as he encourages the player to join in with a selection of fun activities in Percy's World Of Words.
The title features fully narrated text and 3 levels of difficulty to enable the player to develop their word and phonic skills. The activities, that can be used unsupervised, include topics covering spelling, rhyming words and a variety of phonics for the age group, such as initial & final phonemes and blends.
As well as printable worksheets, this title also features an extensive teacher's section.
Key features:
Quick and easy to set up.
Exciting activities that children will enjoy playing.
Add your own words, spelling lists and speech – Ideal for extra practice.
Printable activity sheets supplied on the CD help to develop Literacy and learning skills away from the computer.
Single user:
£34.00
3 user:
£51.00
5 user:
£68.00
10 user:
£102.00
20 user:
£136.00
Site licence:
£204.00
To purchase, choose your licence type and click buy. Remember, we can invoice UK schools even if you order online.







PC: Pentium II 500mhz processor or greater, Microsoft Windows 98, 2000, XP or Vista, 128mb RAM, 16 bit colour.
Mac: Power Mac G3 400mhz processor or greater, OS X (up to 10.4), 128mb RAM, 16 bit colour.
Click here to view our latest software compatibility chart.