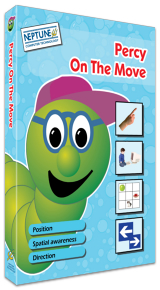 The popular character, Percy the caterpillar, encourages children to explore position, direction, movement and spatial awareness through a range of fun activities for Foundation and Key Stage 1.
With spoken instructions and 3 levels of difficulty for each activity, the appropriate language is used for the age group and so is ideally suited for unsupervised use.
A teacherís section and printable worksheets complement the activities that include a maze, picture grids, puzzles and games to develop the use of positional language.
Key features:
Covers the topics of position, direction (Left, right, up & down) and movement.
Games that help children to develop spatial awareness as well as learn positional language as used in school.
Exciting animations at the end of each game.
Three levels of difficulty and fully narrated.
Single user:
£34.00
3 user:
£51.00
5 user:
£68.00
10 user:
£102.00
20 user:
£136.00
Site licence:
£204.00
To purchase, choose your licence type and click buy. Remember, we can invoice UK schools even if you order online.







PC: Pentium II 500mhz processor or greater, Microsoft Windows 98, 2000, XP or Vista, 128mb RAM, 16 bit colour.
Mac: Power Mac G3 400mhz processor or greater, OS X (up to 10.4), 128mb RAM, 16 bit colour.
Click here to view our latest software compatibility chart.