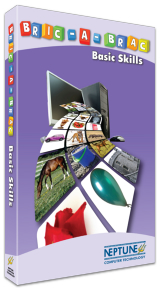 The Bric-a-Brac series is designed to provide a selection of fun activities for children to practice and develop important basic skills. This single CD, Basic Skills compilation, includes four titles – Matching, Sorting, Thinking and Identifying. Purchasing as a compilation saves money, over the purchase of individual titles.
Whether used for pre-school children, infants or those with special educational needs, each title features an easy-to-use, fully narrated interface. Clear and attractive images are used and each product is switch accessible. In addition, each Bric-a-Brac title incorporates an extensive teacher's section.
Bric-a-Brac titles included in the compilation:
Key features:
All titles are switch compatible
Supplied on a single CD for easy installation.
Fun activities based on popular themes.
4 great titles: Matching, Sorting, Thinking and Identifying.
Clear, attractive images and fully narrated throughout.
Single user:
£75.00
3 user:
£112.50
5 user:
£150.00
10 user:
£225.00
20 user:
£300.00
Site licence:
£450.00
To purchase, choose your licence type and click buy. Remember, we can invoice UK schools even if you order online.







PC: Pentium II 500mhz processor or greater, Microsoft Windows 98, 2000 or XP, 128mb RAM, 16 bit colour.
Mac: Power Mac G3 400mhz processor or greater, OS X (up to 10.4), 128mb RAM, 16 bit colour.
Click here to view our latest software compatibility chart.