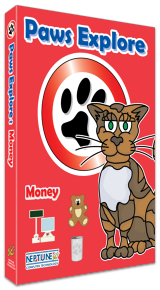 Paws Explore: Money is a title specially designed to help children practice and develop their money recognition skills, through a range of fun activities.
With 3 levels of difficulty and two friendly cat and dog characters, children can practice swapping coins and notes for smaller amounts, calculating change and formatting currency.
This title includes an extensive teacherís section and resources for use on an interactive whiteboard. For use away from the computer a selection of printable worksheets are provided and the software automatically records pupilsí progress.
Paws Explore: Money also allows you to choose between 5 different currencies: British Pounds, Euros, or US, Australian or Canadian dollars.
Key features:
Currencies included: British pounds, Euros, Australian, Canadian and American Dollars.
Entertaining animations with Kelly and Robbie.
Develop essential money handling skills.
Six enjoyable games
Single user:
£35.00
3 user:
£52.50
5 user:
£70.00
10 user:
£105.00
20 user:
£140.00
Site licence:
£210.00
To purchase, choose your licence type and click buy. Remember, we can invoice UK schools even if you order online.







PC: Pentium II 500mhz processor or greater, Microsoft Windows 98, 2000, XP or Vista, 128mb RAM, 16 bit colour.
Mac: Power Mac G3 400mhz processor or greater, OS X (up to 10.4), 128mb RAM, 16 bit colour.
Click here to view our latest software compatibility chart.