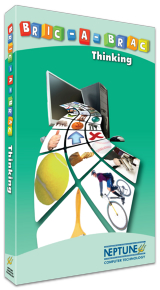 Bric-a-Brac: Thinking, boasts a selection of fun activities that are fully narrated and use clear photographs. The activities, designed for early years, help to develop important basic skills. Players have to think carefully to find images that are the opposite to each other, find images that go together, find objects for a task and think about images related to colour and time.
Switch and touch-screen compatible, this title also features an extensive teacherís section. Bric-a-Brac: Thinking, is ideal for unsupervised use.
Key features:
Fully narrated throughout and fun-to-use.
Helps to develop important basic skills.
Switch compatible - Great for special educational needs.
Fun activities based on popular themes.
Single user:
£25.00
3 user:
£37.50
5 user:
£50.00
10 user:
£75.00
20 user:
£100.00
Site licence:
£150.00
To purchase, choose your licence type and click buy. Remember, we can invoice UK schools even if you order online.







PC: Pentium II 500mhz processor or greater, Microsoft Windows 98, 2000 or XP, 128mb RAM, 16 bit colour.
Mac: Power Mac G3 400mhz processor or greater, OS X (up to 10.4), 128mb RAM, 16 bit colour.
Click here to view our latest software compatibility chart.