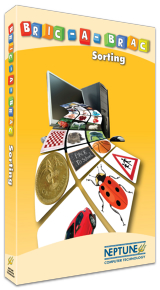 This Bric-a-Brac title has been created to help develop thinking and logic skills. In the activities included, the player must sort images into groups and with themes covering food, indoors & outdoors, animals, shapes, numbers and colours, thereís something for everyone in this title.
Bric-a-Brac: Sorting, features clear attractive images and all text is fully narrated for easy use. This title is suitable for unsupervised use and is also switch and touch-screen compatible. An extensive teacherís section is included to provide full control of the program.
Key features:
Fully narrated throughout and great for children to use unsupervised.
Perfect for use with a switch
Clear, attractive images, with fun animations.
Sorting activities based on popular themes, also covered at school.
Single user:
£25.00
3 user:
£37.50
5 user:
£50.00
10 user:
£75.00
20 user:
£100.00
Site licence:
£150.00
To purchase, choose your licence type and click buy. Remember, we can invoice UK schools even if you order online.







PC: Pentium II 500mhz processor or greater, Microsoft Windows 98, 2000 or XP, 128mb RAM, 16 bit colour.
Mac: Power Mac G3 400mhz processor or greater, OS X (up to 10.4), 128mb RAM, 16 bit colour.
Click here to view our latest software compatibility chart.