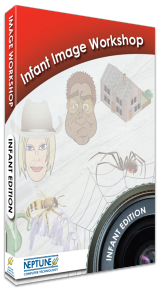 Children at Foundation and Key Stage 1 will enjoy using the Infant Image Workshop to create exciting scenes and images. The title provides an easy-to-use, intuitive framework to enable the user to use the images provided to create their own collage.
Providing topics ideal for the classroom, this product allows the user to create a layout of a town, make a minibeast scene, build a face and layout a scene based on fantasy and fairy tales. The graphical interface with pop-up menus makes it easy to click and drag images into position and all screens can be saved, printed or copied.
Key features:
Save and print your collage scenes.
Complements the title for older children – Junior Image Workshop.
Create minibeast and fantasy/fairy tale scenes.
Build a face using eyes, noses, ears, mouths and other accessories.
Layout a town with roads, buildings, trees and more.
Single user:
£30.00
3 user:
£45.00
5 user:
£60.00
10 user:
£90.00
20 user:
£120.00
Site licence:
£180.00
To purchase, choose your licence type and click buy. Remember, we can invoice UK schools even if you order online.







PC: Pentium II 500mhz processor or greater, Microsoft Windows 98, 2000, XP or Vista, 128mb RAM, 16 bit colour.
Mac: Power Mac G3 400mhz processor or greater, OS X (up to 10.4), 128mb RAM, 16 bit colour.
Click here to view our latest software compatibility chart.