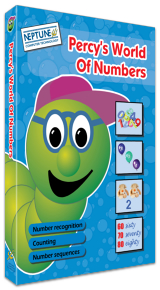 With the friendly caterpillar, Percy, children are encouraged to develop their counting and number recognition skills, through a series of fun activities.
An animated on-screen number book, introduces the user to numbers up to 20 and recognising numbers. The activities are designed to build on the childís skills, with 3 difficulty levels, to cover the themes of counting, comparing numbers, sequencing numbers and ordinal numbers.
Suitable for unsupervised use, the title is fully narrated, includes printable worksheets and has an extensive teacherís section.
Key features:
Covers counting, recognising numbers, number sequences and ordinal numbers.
Features an animated on-screen number book.
Colourful, engaging animations to encourage learning.
Fun and easy-to-use unsupervised.
Learn to recognise numbers and count to twenty.
Single user:
£34.00
3 user:
£51.00
5 user:
£68.00
10 user:
£102.00
20 user:
£136.00
Site licence:
£204.00
To purchase, choose your licence type and click buy. Remember, we can invoice UK schools even if you order online.







PC: Pentium II 500mhz processor or greater, Microsoft Windows 98, 2000, XP or Vista, 128mb RAM, 16 bit colour.
Mac: Power Mac G3 400mhz processor or greater, OS X (up to 10.4), 128mb RAM, 16 bit colour.
Click here to view our latest software compatibility chart.