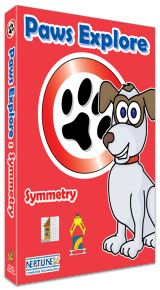 This title allows children to explore the topic of symmetry through a selection of fun activities. With the Paws Explore duo (a friendly cat and dog), the player can choose from three levels of difficulty in each activity that covers recognising and creating one/two lines of symmetry, sorting images according to lines of symmetry and making/completing symmetrical patterns and pictures.
A wealth of interactive whiteboard screens is included for class teaching of the topic, along with printable worksheets for use away from the computer.
The extensive teacher's section records each player's progress and printing facilities are included to print copies of symmetrical patterns/pictures created. Fully narrated, this title is ideal for unsupervised use.
Key features:
This title is fully narrated throughout.
Three levels of difficulty so great for different aged children.
Printable activity sheets are included on the CD to use away from the computer.
Covers the themes of: Lines of symmetry, symmetrical patterns and classifying images by lines of symmetry.
Each activity is hosted by one of the fun characters – Kelly or Robbie, with exciting reward animations at the end of each activity.
Single user:
£35.00
3 user:
£52.50
5 user:
£70.00
10 user:
£105.00
20 user:
£140.00
Site licence:
£210.00
To purchase, choose your licence type and click buy. Remember, we can invoice UK schools even if you order online.







PC: Pentium II 500mhz processor or greater, Microsoft Windows 98, 2000, XP or Vista, 128mb RAM, 16 bit colour.
Mac: Power Mac G3 400mhz processor or greater, OS X (up to 10.4), 128mb RAM, 16 bit colour.
Click here to view our latest software compatibility chart.